2019 Exhibits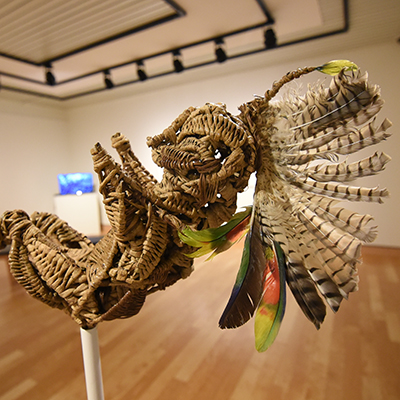 Armando Bogarin - Visiting Artist: Installation Art
Date: Tue 08/27/19 10:00AM - Sat 10/05/19 4:00PM
Location: Main Level, South Gallery
Armando Bogarin will be the Mulvane Art Museum's Visiting Artist this Fall. He comes to us from Paraguay through the state's Kansas Paraguay Partnership program. Bogarin has exhibited his work in many countries around the world. Here he will be creating an art installation in the main floor south gallery beginning August 27th.
Read full article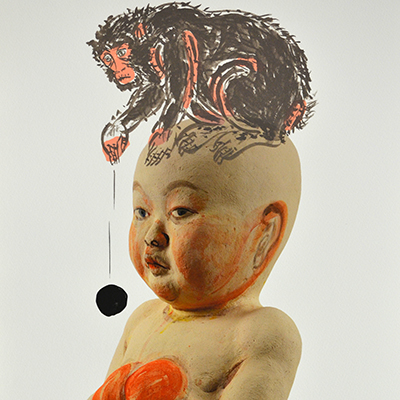 100 minus 5: Variations in the Art of Printmaking
Date: Fri 07/05/19 10:00AM - Wed 12/11/19 5:00PM
Location: 2nd Level North Gallery
The count-down to the 100th anniversary of the Mulvane Art Museum has begun. Leading up to the 100-year celebration in 2024, the Mulvane will highlight the art collection through changing annual exhibitions titled 100 minus. These exhibitions honor the artists, the art and those who have supported the Mulvane Art Museum over the course of a century.
Read full article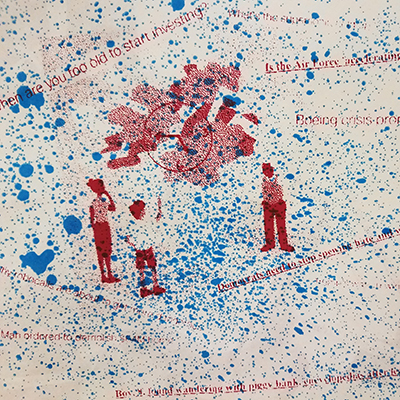 The Other Side of Silence
Date: Mon 05/06/19 8:00AM - Sat 05/18/19 4:00PM
Location: Entrance Level : Adeline Peers Galleries
An exhibition of artworks and response labels created by Washburn University Students. Presented in conjunction with WU-Mester: Freedom of Speech/Freedom of Expression.
Read full article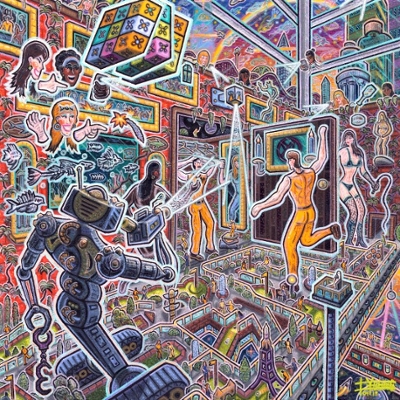 Novel Art - Narrative Paintings by Michael Young and Ian Young
Date: Fri 05/24/19 8:00AM - Sat 10/12/19 4:00PM
Location: Main Level : Adeline Peers Galleries
This exhibition features twenty-two paintings from the private collection of Kansas City collector Fred Whitehead. Michael Young and Ian Young, father and son, each created paintings based on famous literary works 100 Years of Solitude by Gabriel Garcia Marquez, and Brave New World by Aldous Huxley, respectively.
Read full article
2018 Exhibits
Shifting Perspectives
Date: Wed 11/21/18 10:00AM - Sat 04/06/19 5:00PM
Location: 2nd Floor South Gallery
Shifting Perspectives is an exhibition of art and material culture from the Mulvane Art Museum's permanent collection, ranging from the 17th century to the present. Objects on display include sword guards, woodcut prints, ceramics, and paintings, which individually and collectively relate experiences of communication, exchange, and appropriation bet...
Read full article
Patricia Sannit
Date: Fri 11/02/18 8:00AM - Tue 01/01/19 5:00PM
Location: 1st Floor South Gallery
An installation of ceramic sculptures by Patricia Sannit exploring a collective notion of time, human endurance,and the indexicality of human behavior.
The land was broken, and home was the flat frontier
Date: Fri 09/07/18 8:00AM - Sat 11/03/18 5:00PM
An exhibition of prints and paintings from the Mulvane Art Museum's permanent collection depicting the landscape, settlement, and lives of people inhabiting the Southern plains, specifically Kansas. The land was broken is presented in conjunction with Washburn University's 2018 iREAD selection The Worst Hard Time written by Timothy Egan.
Peters/Waterman-Peters: Full Circle
Date: Fri 08/31/18 8:00AM - Sat 12/15/18 5:00PM
An exhibition of recent works by Topeka artists Barbara Waterman-Peters and Larry Peters. Both of the artists have come full circle as they discover and rediscover old themes in their respective mediums. The paintings of Barbara Waterman-Peters and ceramic vessels of Larry Peters harness the power of their medium and reintroduces us to the mysteries and ...
Conversations with the Mulvane Collection
Date: Tue 08/28/18 8:00AM - Sat 11/10/18 5:00PM
Mulvane Art Museum full-time staff have each selected two artworks from the permanent collection. The drawings, paintings, and sculpture are presented in conjunction with a brief text on the history, artist, context and curatorial response.
Flatlander—Belonging to the Land
Date: Fri 07/27/18 8:00AM - Fri 03/08/19 5:00PM
Featuring prints and an installation by John Hitchcock, the exhibition explores the intersection between cultures through the land, language, and the visual symbols of the Great Plains-the epicenter for Plains tribal culture. Hitchcock draws from his experiences growing up on native land that sits adjacent to Fort Sills in Oklahoma. He utilizes drawing an...
GET IN TOUCH
WITH The Mulvane Art Museum
Mulvane Art Museum
1700 SW Jewell Avenue
Topeka, KS 66621