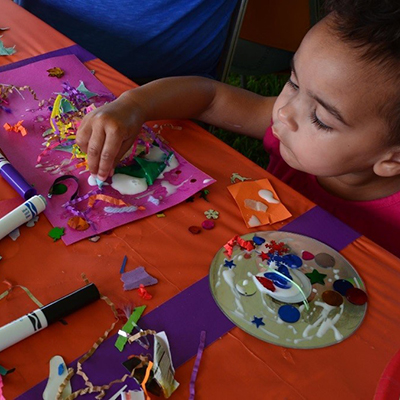 Look, learn, and create together with interactive programs for kids of all ages, parents, caregivers, students and faculty. Create with paint, printmaking, Legos, pencil, or explore the formal elements of art through shape, shading, construction, and design. No art experience necessary, just a sense of curiosity.
Entry is free and open to the public because of the generous contributions of the Sabatini Family Foundation. We welcome people of all ages and ability levels so come by yourself, with your school or as a part of a group. If you plan to come with a group of 7 or more please call or email us to schedule ahead of time. 
ArtLab Family Events
I DREAM A WORLD Family Day: Images and Poetry      
Saturday, March 28, 1:00-4:00 PM
Free and Open to All
Create art and poetry to share your life journeys. Become inspired by the photographs of artist Brian Lanker and words from poets, such as Gwendolyn Brooks and Langston Hughes, to create your own personal message.
RESPECT YOUR MOTHER Family Day: Our Planet Home
Saturday, April 18, 1:00-4:00 PM
Free and Open to All
Join the Mulvane, the Tonantzin Society, and other environmental groups to love, nurture and protect our mother Earth. Fill your afternoon making nature-inspired art, playing games, learning about creative composting, creating a simple bee or bird house, and more!
Hours of Operation
The ArtLab is open Saturdays 1 - 4, Tuesdays 10 - 7, Wednesday through Friday 10 - 4.