The Mulvane Art Fair is a juried event that features 90+ artists using a variety of media from across the state, region and country. We are proud to announce that the 2019 Art Fair featured artists from 15 different states – Colorado, Missouri, Florida, Nebraska, Alabama, Texas, Oklahoma, California, Kansas, Illinois, Arizona, Oregon, Iowa, South Dakota and Wisconsin. The event also features live music, a beer garden, and exciting food options.
Proceeds from the Mulvane Art Fair support the programs and mission of the Mulvane Art Museum.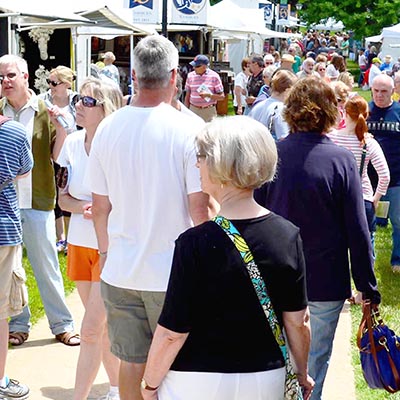 Hours and Admission
The Mulvane Art Fair takes place on the first weekend of June.
Saturday, June 6th : 10:00 am – 5:00 pm
Sunday, June 7th : 10:00 am – 4:00 pm
Admission is $6 for a day, or $10 for the weekend. If you are under 12 or a member of the Mulvane Art Museum,  your admission is FREE!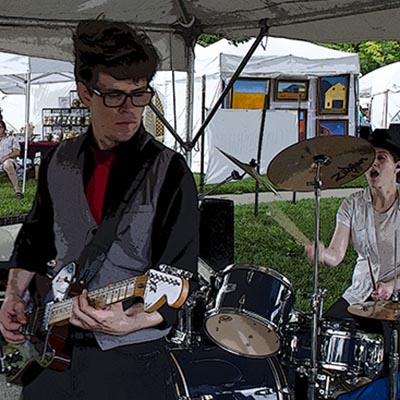 2020 Music Schedule Coming Soon
Saturday – June 6th
12:00 pm : 
2:00 pm : 
4:00 pm :
Sunday – June 7th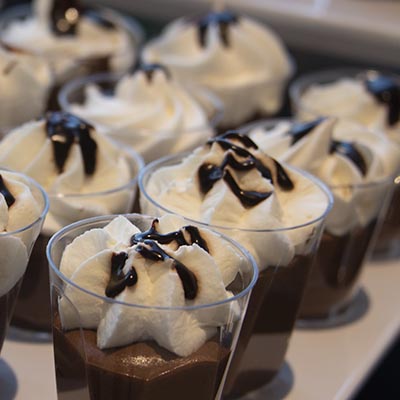 Food + Drink
THE MAD GREEK - Lawrence, KS

The Mad Greek has been a Lawrence institution for over two decades.  Family owned and operated since 1988, the Mad Greek himself has been bringing you original family recipies, straight from the villages in Greece and Italy.  We serve unique combinations, with a wide variety of Greek and Italian dishes.
SOUTHERN STAR CAFÉ - Topeka, KS

Known for the wonderful BBQ they served at their restaurant in Forbes Field, Southern Star will be joining us again this year. They will feature mouth-watering BBQ Pulled Pork Sandwiches, Pulled Pork Nachos, and Smoked Chicken and Pork Tacos. For our vegetarian diners, new menu items will include Black Bean Burgers and Veggie Wraps.
CHARTWELL'S CATERING

Washburn's own,

 

CHARTWELLS CATERING

 

will complement all of the wonderful festivities, food and blues music with a Beer Garden, featuring local craft beers, select import and domestic wines and Cotton Candy for the children.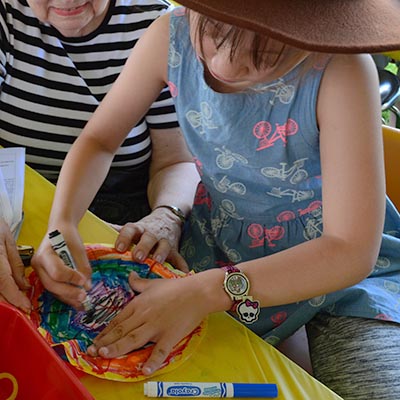 ArtLab Outdoors
Don't miss the ArtLab Outdoors at the Mulvane Art Fair! 
This FREE art maker tent is guaranteed fun for all ages. The ArtLab in the Mulvane Art Museum will be closed during the Mulvane Art Fair, so join us under the tent as the ArtLab goes outside for special art fair activities for kids, young and old!
Special projects courtesy of Topeka Community Cycle Project and Topeka Metro Bikes. Thank you!
2020 Mulvane Art Fair T-Shirt is Coming Soon
The 2019 Mulvane Art Fair T-shirt was so popular that we sold out on the very first day!  The 2020 shirt is coming soon.  We will offer them for sale on this website as soon as possible.
Friends of the Mulvane
Thank you for supporting this annual event!
Membership supports the Mulvane Art Museum and helps us remain free to everyone. Becoming a Friend of the Mulvane Art Museum is simple and it can make a real difference in your community.
Show your support of the arts in Topeka and enjoy many benefits by becoming a Member today!