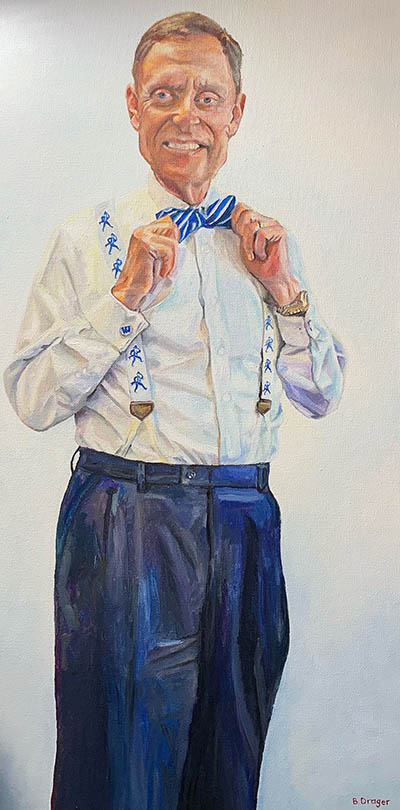 This portrait of Washburn University President Dr. Jerry Farley was painted by Topeka artist Becky Drager during the Covid-19 pandemic in 2020. Part of a series of paintings called Inspired by Topeka People, the portraits feature Topeka leaders and community members who inspire and foster hope.

Richard Ross, ba '71, jd '75, spearheaded a campaign to purchase the painting for the university with proceeds going to support the Mulvane Art Museum. More than 60 Washburn University alumni and friends from eleven states, plus Washington, DC and Sydney, Australia, contributed to the effort to acquire the painting for the Washburn community and install it in a location for all to see and enjoy.
$20, 375 raised.
See list of donors below.
Becky Drager, Proud to Be an Ichabod, 2020
Thank You!
We wish to thank everyone who contributed to this project which supports the collections, exhibitions, and educational programs of the Mulvane Art Museum
Lori '83 & David Callahan
Scot '85 & Anna Ferrell
Jeanne '77, '73 & Ken Bertelson
Bob H'85, H'69, '52 & Elizabeth Dole
Mark H'01, '77, '74 & Lisa '84 Heitz
Kris Rinne '76
Brian & Carla Hahn
Beth H'14 & Duane Fager
Brian Lutz '87 & Laura Maag Lutz
Carolyn '86, '78 & Terry Orozco
Courtney '15, '13 & Kyle Artman
Deborah H'12, '82 & Joe Rose
Jim H'04, '61 & Kathy '64 Maag
Joe '78 & Gladys Gigous
John '67 & Janet Frieden
Kris & Jeff Chanay
Larry Meeker '67 & Sally Cook Roth
Mal '71 & Karen Robinson
Mark '77 & Sheree Yardley
Paul '71 & Rita Etzel
Paul '75 & Jeanne H'15, '80 Hoferer
Randall Scott '05 & Kay Graham Scott
Rebecca Crotty '77 & Rich Bonebrake
Richard '87 & Nancy '88 Vaughn
Ron Wurtz '73, '70
Bette M. Morris
Cindy Rogers '69
Glenda Cafer '83
Jacki Summerson H'18, '68
Jeanie Schuler
John D. Pinegar '82
Lonnie Hossfeld '80
Mandi Walter '09
Michael & Grace Morrison
Mike Lennen '74
Nancy Moritz '85, '82
Rebecca Sanders '78, '75
Richard Ross '75, '71
Rick Friedstrom '73
Susie Hoffmann '87
Greg '88 & Jaena '89 Greenwood
Mike '66 & Connie '67 Laughon
Chuck '84 & Janet Engel
Martin Ahrens '67 & Carolyn Szafran '74
Mark '83 & Julie '83 Ross
Laura Stephenson
Shaina & Justin Moravec
Randy Warren
John Bird '74, '70
Ross Jory
Bill '80, '77 & Diane '70 Sneed
Glen '68 & Kathy Winchell
Ed H'15, '70 & Julie '90, '71 Glotzbach
Cynthia Heath '71
Jenifer Lucas '75
Gilbert H'21, '70 & Ann Galle
Steve Weeks '72
Donn '71 & Janet '72 Land
Gary '69 & Mary Eisenbarth
Steve H'05, '70 & Brenda '95 Kitchen
Lori A. Fink '85