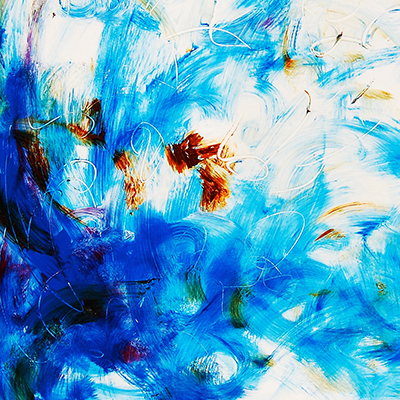 Category : MulvaneHome, MulvaneExhibits
Date: Fri 08/09/19 10:00AM - Sat 02/08/20 4:00PM
Location: Rita Blitt Gallery
This exhibition is curated from the Rita Blitt Legacy Collection by Stevie Haley Delgado, Irwin Blitt Student Fellow 2018-19.  The project is an examination of Rita Blitt's interest in incorporating natural and atmospheric elements into her work; in particular, the reflection of light. Her abstract paintings render nature with literal force. Blitt often employs both hands when she paints. The manner with which she applies paint to canvas mimics the subject in consideration. Dancing Waters I, 2001, for example, seems to embody the actual phenomena of light reflecting and refracting across a body of water. Throughout, Blitt's gestural painting process and effective use of line creates a dynamic interplay of light and color.
In the late 1960s, Blitt expanded her practice beyond the media of painting and drawing. She started manipulating acrylic sheets into three-dimensional forms that eventually transitioned into a mature body of sculptural work. Blitt's early acrylic sculpture is grounded in a modernist context and is a product of her inclination toward formal experimentalism. The acrylic sculptures on view in this exhibition are intended to activate the gallery space and create a visual rhythm of light and color throughout.
Stevie Haley Delgado is an intermedia artist. She has BFA in sculpture from Washburn University, 2019. Delgado served as president of the Washburn Process Coalition, the primary student art organization on campus. Born and raised in Topeka, she comes from a multicultural family, where she learned to appreciate different arts represented in both sides of her family. In Delgado's performance art, she utilizes sculpture and spoken word poetry to connect with her audience.
THE FELLOWSHIP AWARD
Named in honor of Rita Blitt's husband Irwin Blitt (1928-2017), who was a constant source of unconditional support to Rita and her creative spirit, the fellowship will be awarded to a Washburn University student who will work with the Rita Blitt Collection during an academic year to research and develop a curatorial project under the guidance of museum curatorial staff and a faculty mentor. Curatorial projects will culminate in an exhibition or an interactive multi-media project with interpretive content, the presentation of a choreographed dance performance or musical composition, or the completion of a research paper or catalogue. Curating an exhibition, performance, interdisciplinary, or multi-media project requires idea development and refinement of an exhibition storyline, selection and research of artwork utitlizing and contextualizing the Rita Blitt collection, and the development and oversight of project timeline and budget.
Rebecca Manning, M.A.